You have already determined your Vision and Sponsorship, defined Use Cases, established the right Governance and identified Success Criteria for your Microsoft Teams Adoption Strategy. What's next? When you get to the Onboarding phase of Teams Adoption, you have to prepare a Communication Plan to drive users' awareness and engagement.
In this article we will guide you through your Communication Planning for a successful Microsoft Teams Adoption and will give you some valuable tips and best practices that you can implement in your organization.
Let's get started!
What's a Communication Plan and why do you need it?
Microsoft Teams Adoption Communication Plan is your tool for delivering information about the upcoming project to all the stakeholders. Its purpose is to create awareness and enthusiasm regarding the transformation before its official launch and share success stories during and after the roll-out.
A Communication Plan has three main objectives:
1. To stimulate users' interest.
2. To encourage them to use Teams in their daily work activities.
3. To demonstrate how they can benefit from Teams by providing tips and sharing success stories.
It incorporates a variety of events and activities that constantly communicate about the project, its purpose, and its value.
Later on, we will give you some inspirational ideas for your top-notch Communication Plan. But first, let's talk about why you need it in the first place.
The five stages of change
There is more to Microsoft Teams Adoption than just introducing a new software. It's a change management that transforms completely the old way of working and requires a behavioral change from all the individuals working in the organization.
Let us remind you of the five stages of change developed by Prosci that we mentioned in our very first article on the Microsoft Teams Adoption Strategy.
Prosci ADKAR model of individual change suggests that when an organization undertakes a transformation initiative, it will only be completed when an individual can state that they have Awareness, Desire, Knowledge, Ability and Reinforcement to make the change happen.
In short, it means that your employees should be familiar with the technology and understand it, want to implement it, have sufficient knowledge on how to use it, be able to use it and, finally, use it regularly.
Your Communication Plan for Microsoft Teams Adoption is the tool that will help your staff go through all these changes in the most efficient and smoothest way.
Communication Plan for Microsoft Teams Adoption Example
Use the example below created my Microsoft Office teams to document your Communication Plan.
| | | | | | | |
| --- | --- | --- | --- | --- | --- | --- |
| Phase | Date & Frequency | Sender | Receiver | Objective | Media | Owner |
| Pre-launch | Week 1, Once | CEO | The entire company | Communicating the vision/strategy | Email, Teams Announcements | CEO |
| Pre-launch | 1st Oct, Once a week | Executive Sponsor, Manager | Targeted groups | Strengthening the message, creating an adoption plan | Email, Teams Announcements | Executive Sponsor |
| Launch | 15th Nov, Once | CEO | The entire company | Promoting the launch, communicating its objectives | Email, Teams Announcements | CEO |
| Launch | 15th Nov, Once | Executive Sponsor, Managers | Hearings Concerned | Demonstrating the adoption plan and communicating desired end-results | Email, Teams Announcements | Executive Sponsor, Managers |
| Post-launch | 20th Nov, Every week | Executive Sponsor, Managers | Hearings Concerned | Following up on adoption and sharing best practices | Email, Teams Announcements | Executive Sponsor, Managers |
©Microsoft Office
Communication Plan: Good Practices
Your communication activities will vary depending on the stage of your Microsoft Teams Adoption. The information that you want to communicate can come in waves, starting at the pre-launch phase, followed to the launch and, ultimately, post-launch.
Let's go through a few examples of what tools you can use for an engaging communication with your staff and what exactly you should communicate at each stage.
Pre-launch
At this stage, your main goal is to generate awareness and stimulate interest in the upcoming transformation. You will need to introduce the project to your end-users, explain the new technology and why you're adopting it, and finally announce the planning and schedule of project roll-out.
Posters and flyers
Try using posters and flyers in places where your employees spend most of their time – offices, cafeteria, meeting rooms, etc.
Countdown
Induce anticipation by creating a countdown that can be followed both the in the premises of the organization and on your users' devices.
Emails
Send informational emails to your employees regarding the upcoming enrollment. Inform your users about the benefits of Teams and include some useful tips.
Teasers
Create teaser videos to entice your staff to try the new technology. Include quotes of satisfied customers, fragments of success stories and some statistics. This will provide some validation for the initiative and stimulate desire to adopt the change
Training team readiness
Finally, communicate directly with the training team that will organize training for all of your staff. Make sure they have all the necessary knowledge and skills to introduce Teams. Technical readiness is key to ensure that your company is ready for the launch.
Launch
Your launch will be implemented in phases, targeting diverse groups of users depending on their functions, department, geography, or other criteria determined by your team.
Your communication at this stage should target specific groups of users who are currently adopting Teams. You should provide them with enrollment instructions, training, and assistance as well as demonstrations of best practices depending on specific use cases.
Here's a list of tools that you can use for your communication strategy at the launch stage:
Official launch event
Make it creative, engaging and corresponding to your company's culture and values. Distribute Microsoft Teams T-shirts for your Planning Team and Champions; decorate your building and/or offices with Microsoft banners and labels and install demo booths in the foyer or cafeteria where everyone interested could have a real-time experience using Teams.
Talk to your planning team and come up with some tips and tricks for the use of Microsoft Teams that can be useful for your employees.
Business scenarios
Inform your end-users about different business scenarios and use cases that they can apply in their daily work. Target groups in accordance with the scenarios that they will use with their teams.
End-user training
It's important to provide training to all the employees regarding the use of Microsoft Teams. Make it as engaging as possible, combining different training formats and changing location. Make sure you provide training to your remote workers as well through online channels.
Breakfast and lunch sessions
Take advantage of the relaxed and informal atmosphere during breakfast and lunch breaks to organize Teams communication sessions.
Post-launch
At post-launch stage target those groups of users that already started using Teams in their work activities. Provide them with additional support, training and resources and gather feedback about their experience during and after the enrollment of Microsoft Teams.
Continuing education
Even after everyone in your organization starts using Teams, you need to make sure they regularly receive up-to-date knowledge regarding its new capabilities and functions. Technology evolves rapidly and Microsoft engineers constantly update their software. In order to use it to the fullest in your company, organize training courses regularly and communicate to your staff about new advantages of the use of Teams.
Users club
Create a users club that anyone interested in Teams could join. This will stimulate further promotion of Teams among your staff, sharing of best practices and fostering new ideas regarding the use of Teams.
Feedback
Gather feedback from your end-users regarding their overall experience during and after the project launch. Use this information to adapt your planning and enhance the use of Teams in the organization.
Sharing success
Communicate to your employees all the success stories that you witnessed in different departments or branches of your company. This will further encourage your employees to use the new technology and give them examples of how they can enhance their own work with Teams.
Inspirational ideas for Microsoft Teams adoption events
In order to stimulate curiosity and enthusiasm regarding the upcoming transformation in your company, you want your communication campaign to be as engaging and entertaining as possible. Organize some creative and fun events or activities in your office to get more people interested in the project.
We have gathered some ideas that you could use as an inspiration for your own adoption events.
Office snacks
Let's face it: everyone loves food. As the popular proverb says, the way to a man's heart is through his stomach. We believe that women work the exact same way! So why not take advantage of that and entice your colleagues with freshly baked cupcakes or cookies with Microsoft Teams logo to make them fall in love with Teams?
Just take a look at these!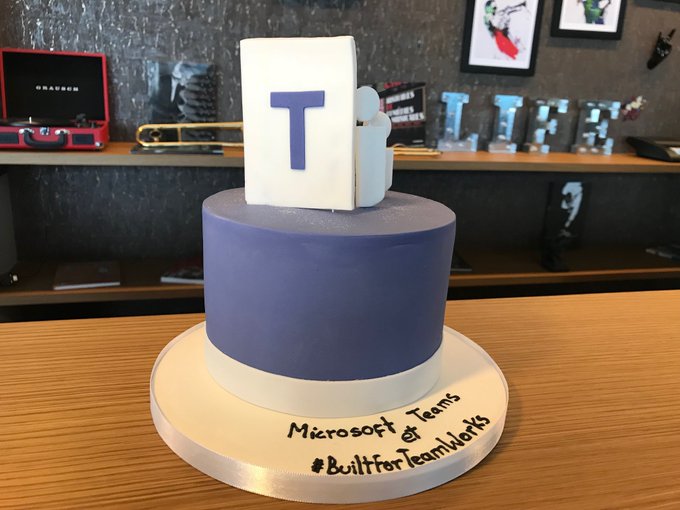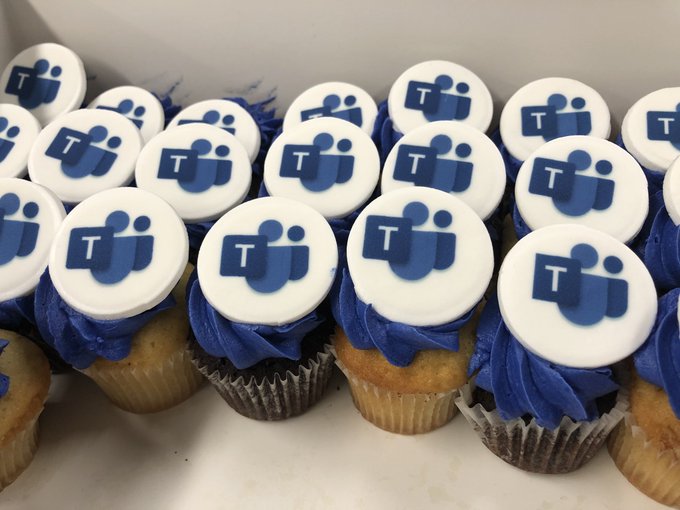 No-email Day
Transition from the old way of working to the new one might be challenging and requires a gradual approach. Start with introducing a No-email Day when just once a week all your employees should refrain from using emails and resort to Teams instead.
Once they are familiarized how the new technology works and understand its benefits, they will be more willing to use it more frequently and, in the end, stop using emails for internal communication.
Microsoft Teams Photo Day
People love to have great pictures on their profiles. But let's be honest, how many of us really had an opportunity to have a professional take a photo of us?
It will also be a great idea to take group pictures of all the staff members, as well as of different departments in your organization. Later on you can publish them in your Teams and also use them as background images for Yammer groups.
Invite your employees to take part in Teams photo-shoot so that everyone interested will have an opportunity to have their picture taken by a professional photographer.
Teams Day
Together with you adoption planning teams, organize a fun Teams Day. You can hold it regularly on the same day of the week.
Your team members will answer questions, promote Champions Network as well as organize contests and quizzes with awards for the winners. The purpose of the event is to generate awareness and foster engagement.
Games
Did you know that you can play games in Microsoft Teams? That may be a great idea for a team-building activity and at the same time will generate interest in the use of Teams.
You can play Pictionary using Whiteboard app, and play trivia games using apps that can be integrated directly into Teams: for instance, Kahoot.
Additionally, you can create your own quizzes using Microsoft Forms app and adding it as a tab in the right channel. Add all sorts of questions: they can be both regarding Microsoft Teams or fun quizzes on general knowledge. Your office meetings can also benefit from a short quiz that will serve as an icebreaker and at the same time will demonstrate some of the Teams capabilities.
Virtual events
These days we face lots of restrictions regarding public gatherings, so organizing some of the events mentioned above might be a bit challenging in the current circumstances.
Virtual events are nothing new, but they have become increasingly popular recently because of the COVID-19 outbreak. You can leverage that as well and organize an online event inviting all the employees across the organization. This will also be a great opportunity to gather people from different branches located in different parts of the world if this is the case for your company.
Invite different speakers, including your Executive Sponsors, to host the event, organize Q&A sessions and interact with your audience online.
In order to make this event more entertaining you can include games and competitions
---
We hope you will use these tips to create a great Microsoft Teams Adoption Communication Plan and will be inspired to come up with your own creative ideas.
In the next article of our Microsoft Teams Adoption Strategy we will talk about Training Plan. Don't miss it!